Over the years of going to the workshop to design, cut, plane, straighten, drill and mortise, rout, sand, glue, assemble, and finish whatever project I am working on, I virtually always make a mistake or have an unfortunate slip-up in the process. With wood this eventuality is inevitable in the non-production home shop, at least with me, a non-professional who rarely produces more than one of any piece I make. Every piece has its own challenges, and without repetition over and over to streamline production and iron out problems, mistakes in those pieces are bound to happen.
Some woodworkers make a prototype of a piece from cheaper wood as a way to mitigate potential problems when they plan to use more expensive wood for the actual piece. When I was helping my son with his Eagle project several years ago, we did just that. The project was a group of six portable desks for social workers doing entrance interviews at a local shelter for battered women and children, as well as three smaller desks for the children who stayed there. The prototype was fabricated from some cheap plywood I had in the shop (I still use that desk!) and then we used the experience of making the prototype to adjust the design for production out of more expensive Baltic birch plywood with a Formica top. Mistakes still happened, but they were small, not catastrophic, and the resulting desks were uniformly beautiful, and much appreciated and used by the shelter.
Alas, that is not the norm for me. I usually conceive of a project in my head, get design ideas from the internet, make a sketch in a notebook, write out lengths and widths of wood parts I will need, then get to work. Over the course of the project, the nature of the wood on hand, my ongoing visualization of the finished product as to simplifications or complications for functionality and/or aesthetics, as well as the inevitable mistakes, often lead to a result that is certainly different from the idea I got from the internet, but also quite different from the initial sketch I made of the piece. Yet the result is almost always more beautiful than the initial conception.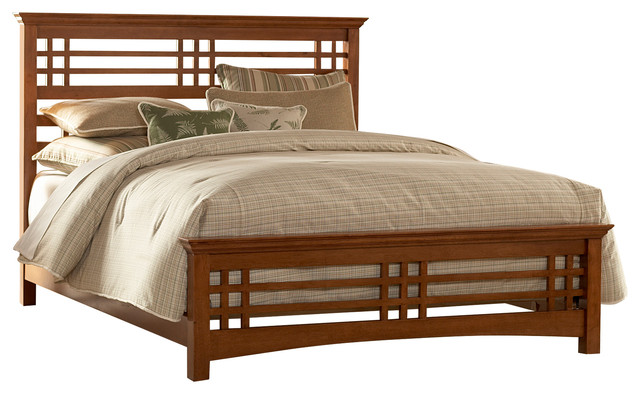 A case in point is the bed I made for our master bedroom last year. I'd been wanting to make a bed for years and finally had some time and some nice rough oak boards that I thought would create a distinctive piece of furniture. I knew my skills lent themselves to a Craftsman type design with straight lines and mortise-and-tenon joinery, but I did not want the result to be to heavy looking. So I found a bed online that looked nice and used the dimensions as a start. What I ended up with was something that has no apparent relationship with that piece. In effect, my final product looks simpler, but is actually more complex than that piece, not to mention a vastly different look. The wood I had on hand was one factor, but I almost immediately morphed the piece in my head to a more traditional Craftsman piece, but with a central floating panel in the middle of the headboard based on our bed at the time, and started the cutting. I quickly nixed the floating panel, but retained the large central panel idea flanked by narrower vertical slats. For stability, I opted to cut dovetailed half-laps for the joinery of the panel and slats. Then a dinner guest suggested I display the dovetails, instead of hiding them. I knew exposing the dovetails was a great idea, but that the work would be much more time-consuming and fraught with potential errors. I was right. Thank goodness for wood filler. 
Thus far everything was going swimmingly. I had the side rails done and the 4" square legs of a cedar core surrounded by ¾" oak, as well as the top and bottom rails of the headboard. I then glued up two wide oak boards for that central panel, but somewhere along the way it fell off of my bench and receive a gashing blow that no wood filler could cover (I tried). Not to be dissuaded, I continued with construction as I thought of a solution. Then one day, my eye alighted on a walnut board I had lying in the shop, and the idea for walnut inlays to cover the gash entered my mind. I had never done inlay before, but this was a great time to try. I used the very template for the dovetail half-laps to cut out bow-tie shaped inserts on my bandsaw. Carving out the space for the inserts was testing, but the result was stunning and gave the bed a distinctive look it never would have had if not for the mishap.
As inevitable as mistakes or mishaps are in the shop, they are also inevitable to the human condition. I have often thought of all the personal mistakes I have made in life, many minor but several major ones that had the potential of sending my life off the rails. But a recognition of the mistakes and a trust in God have always resulted in something beautiful that I would not have imagined myself. I do not for a second believe that my poor choices and actions were ordained, but when I made them, God worked that choice or action into an experience that made me wiser in my own choices and in my ability to help others in theirs. I have no doubt that I will make more mistakes, both in my shop and in life, but I am trusting the Master Craftsman to carry out his work in creating something beautiful in his time and way.